The MSVCR's Penang Round Island Rally  9-11th June 2023
The club's famous Penang Round Island Rally is bigger than ever this year!
This year's PRIR's organisers have a full three day event going on, allowing entrants to explore the whole of Penang Island. The event has a sights sounds and tastes theme starting Friday night with a beachside opening dinner & quiz before the Tastes & Places Expedition on Saturday where classic cars will disperse all over Penang seeking out historical buildings, famous views, secret fruits and special tastes of the region.
The evening dinner overlooking the ocean on the verandah of one of Penang's best/newest hotels will round-off the day. Sunday starts with a cool morning drive to a Sunday craft/farmers market where we'll have some laughs with a safe-but-challenging car gymkhana and then closing with a buffet lunch & prize giving.
Be sure to register early to grab your place! See below for details and agenda.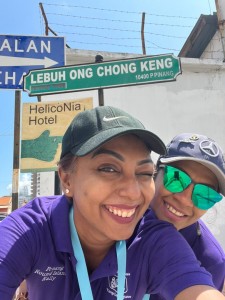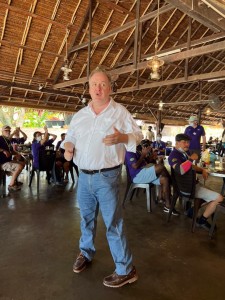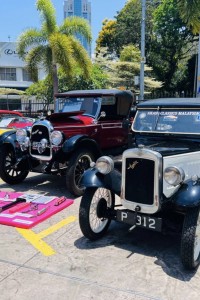 Details
Who can join?
The event is open to both members and non-members. Members enjoy a discount so if you are considering joining up now is the time! Click here for more details on membership
Classic cars and motorcycles 20 years and older (YOM 2003 or older) are eligible to participate under MSVCR rules. Modern cars are welcome to join the fun but can't win the competitions.
Event entry fee & payment instructions
RM300/person for MSVCR members & their passengers
RM450/person for non-members.
Fees includes Friday Dinner, Saturday Dinner, Sunday Lunch, Shirt, Cap, Car Sticker & chance to win our famous handcrafted trophies. Fees do not include travel or accommodation.
To register for the event we require RM100/SGD30 deposit in advance (refundable in full for cancellations before Fri 26th May) – send payment receipt snapshot to membership@msvcr.com
RM 100 payable via 'duitnow' to:
Maybank 5070 4060 9968 (Malaysia & Singapore Vintage Car Reg)
SGD 30 payable via "paynow' to:
Asst Secretary, David Christie – PayNow to 96617637
Entry Form
Click on this link to complete the form for your entry.
Accommodation
Event Hotels: Angsana Teluk Bahang & Bahang Bay Hotel are opposite each other in Teluk Bahang, Batu Ferringhi.
The Angsana will be base for registration, flag-off, event dinner & prizegiving. (Make sure you book using the following links for the best rates)
Angsana  Teluk Bahang from RM440++/night
Bahang Bay Hotel from RM 180++/night
Event Agenda
Friday 9th June
4:00pm onwards: Registration at Angsana Lobby, pickup of Lanyards/Sticker/Cap/Shirt and Event Schedule (payment of remaining event fee in cash preferred)
6:00pm: Start of 'shuttle bus' running from the hotels to Frandy Beach Bar
7:00pm: Sunset Reunion Buffet Dinner @ Frandy Beach Bar
7pm-9pm: Teppo's Classic Conundrum – a fun quiz to test your classic car & motorcycle knowledge.
9:00pm-Midnight: 'shuttle bus' return runs to event hotels.
Saturday 10th June
9:00-9:30am: Drivers briefing for of "Tastes & Places Expedition" (TPE)
TPE is a points-based expedition to listed points of interest and specific food stalls to be visited & Photographed (Selfie), entries recorded in an online form.
10:00am: Flag-Off PRIR23 TPE
3:00pm: FINISH of PRIR23 TPE at Angsana Lobby
3:00pm-6:00pm free & easy / recovery!
6:00pm: President's Drinks at Angsana Kebaya Ballroom & Terrace
7pm: Sunset Buffet Dinner & PRIR23 TPE Prizegiving at Angsana Kebaya Ballroom.
Sunday 11th June
9:00am: Check-out of hotels & drive to Auto-City Juru, Prai
(on mainland, via Balik Pulau or George Town)
10:00 am onwards: browse Grow Community Market, Coffee Shops etc.
10am-2pm: PRIR23 'Funkhana' a fun driving event for classic motorcycles and cars.
12:00-2:00pm Buffet Lunch for event Participants, adjacent Funkhana action.
2:00-2:30pm Gathering for Funkhana Prizegiving, President's Speech,
2:30pm Farewell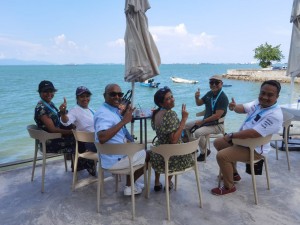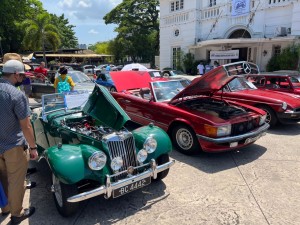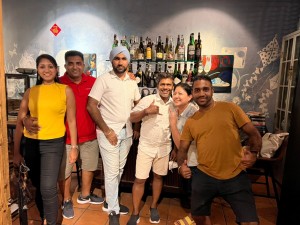 Still have a query? whatsapp us on +60127966865


We hope to see you there!